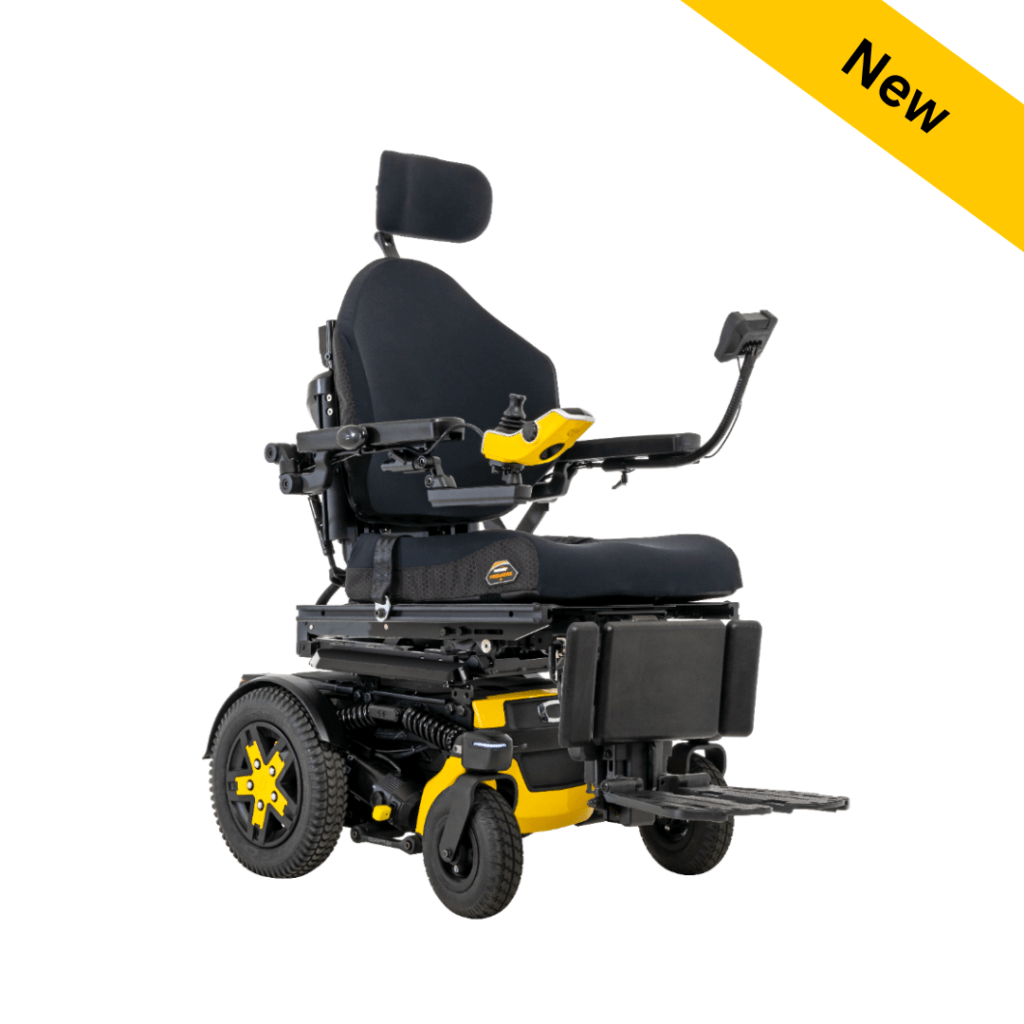 R-Trak
Rear with drive with impressive SRS suspension system
The R-Trak holds the smoothest ride at your fingertips. Designed to sport an impressive SRS suspension system while promising an all over exceptional performance. The R-Trak's new sleek design is further enhanced by the new aesthetic detailing creating an elegant yet powerful design. Providing a high class smooth ride regardless of terrain, the R-Trak stands as the best answer for all users with active lifestyles.
Users of R-Trak are able to utilise unmatched additional benefits, with up to ten inches of powered seat elevation, without compromising a top speed of 3.5mph when in this state. Fifty degrees of tilt and still receive a impressive list of clinical benefits.
The suspension system allows users to achieve greater stability, increased traction on uneven surfaces all while reducing impacts from environmental inconsistencies. Developed with one goal in mind: to give users the utmost comfort, performance and accessibility.
Specifications
Weight Capacity
300 lbs. (136 kg/21 stone 6 lbs.)
Maximum Speed
Up to 7 mph (11 km/h) Up to 3.5 mph (5.6 km/h) with 10-in. lift
Length
Stowage Length: 34.8 in (884 mm) without front rigging
Length: 44.5 in. (1130 mm) with front riggings
Width
Width: 24.2 in. (616 mm)
Ground Clearance
3.97 in. (101 mm) at battery tray
Turning Radius
25.7 in. (653 mm)
Suspension
SRS Suspension system
Rear Wheels (Drive Wheels)
14 in. (356 mm), solid or pneumatic
Anti- tip Wheels
4 in. (102 mm), flat free
Drivetrain
Two motor, rear-wheel drive
Brakes
Electronic regenerative, disc park brake
Battery Size
C20 75 Ah, C5 62 Ah
Batteries
Two 12 volt, Flat top deep-cycle
Battery Charger
8 amp, off-board
Motor Options
2 pole and 4 pole motor options
Overview
Download our
product brochure
Download our product brochure here to get an overview of our current product range!
Features
Rear wheel drive

Impressive SRS suspension system
Available with 4mph or 6mph speed packages
14 Standard colour options
Smoother ride experience
New Sleek aesthetic design
Tilt
Recline
Powered articulating centre mount footboard
Powered elevating and articulating individual leg supports