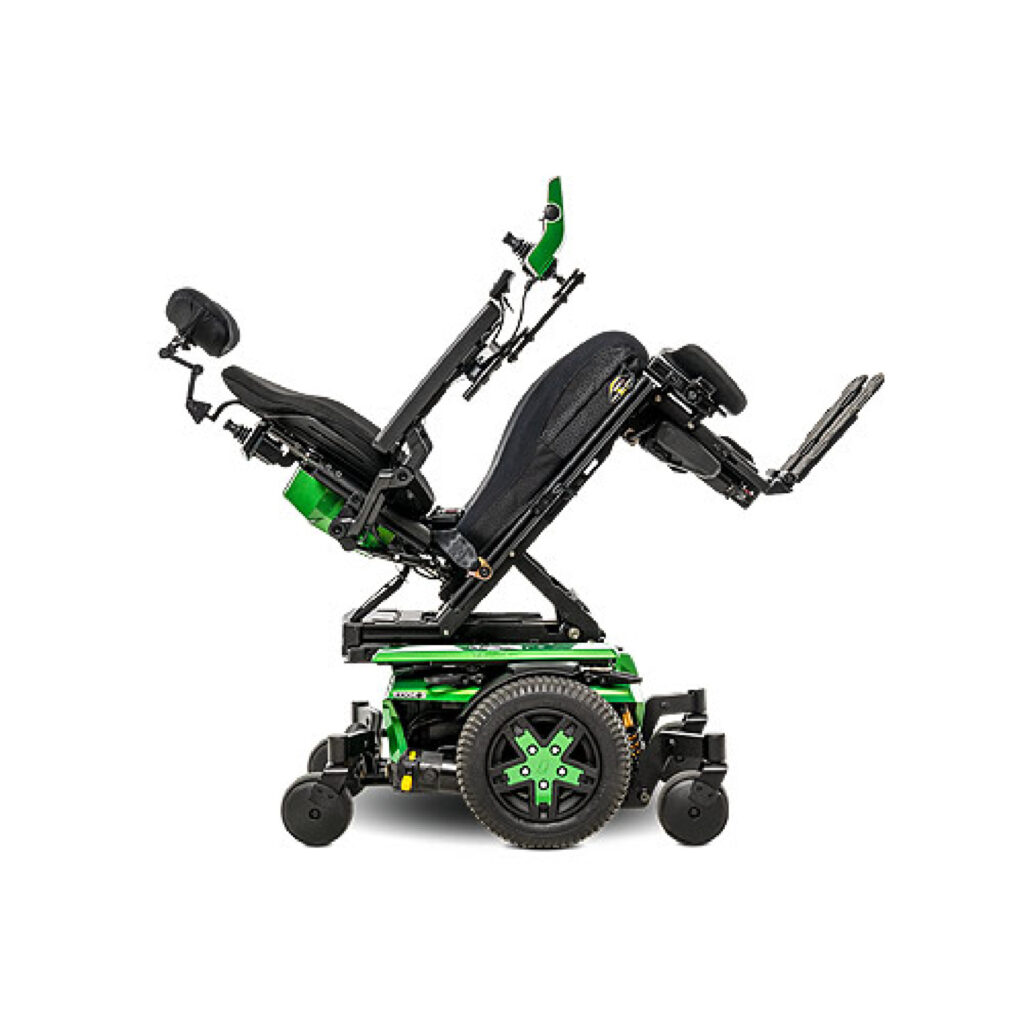 TRU-Balance 3
TRU-Balance 3 Power Positioning Systems feature an innovative design that maximises functional independence while providing an appealing look and feel. TRU-Balance 3 has the ability for quick and easy fine-tuning adjustments to ensure maximum comfort and positioning. Available configurations include power tilt, power recline, power articulating foot platform, and static seating.
Optional 305 mm iLevel power-adjustable seat height is available on the Edge 3 Stretto, Edge 3, Q6 Edge Z, Q6 Edge HD and 254 mm of safe seat elevation is offered on the 4Front 2.
Overview
Download our
product brochure
Download our product brochure here to get an overview of our current product range!
Features
Make fine adjustments while the client is in the chair
Order your seat width independent of your back width at no additional charge
Internally or externally rotate cantilever armrests for optimal positioning
Easily retrofit power tilt, recline, and power-adjustable seat lift
Easy back height and depth adjustment
Easy center of gravity adjustment
Complimentary cup holder
Premium accessories available
Optional attendant control available
Available in a wide array of back shroud colors
Power Recline

85° – 175° of recline
136 kg weight capacity
The seat-to-floor height is as low as 445 mm on the Edge 3
Standard shear reduction and cantilever armrests

Power Tilt

50° of tilt
Seat-to-floor height as low as 445 mm on the Edge 3
Unmatched adjustment and durability

305 mm Power Adjustable Seat Lift with iLevel

iLevel technology provides extra stability to ensure maximum safety for transfers, reach, and numerous other activities of daily living
iLevel technology enables the unit to drive at 7,2 km/h while elevated at 305 mm of lift
136 kg weight capacity
Seat-to-floor height as low as 445 mm on the Edge 3
LED fender lights standard with iLevel
Available only on the Edge 3, Q6 Edge 2.0, Q6 Edge Z, and Q6 Edge 2.0 X

254 mm of safe seat elevation

Offers 254 mm of power adjustable seat height while driving at speeds of up to 3.2 mph
136 mm weight capacity
Available only on the 4Front