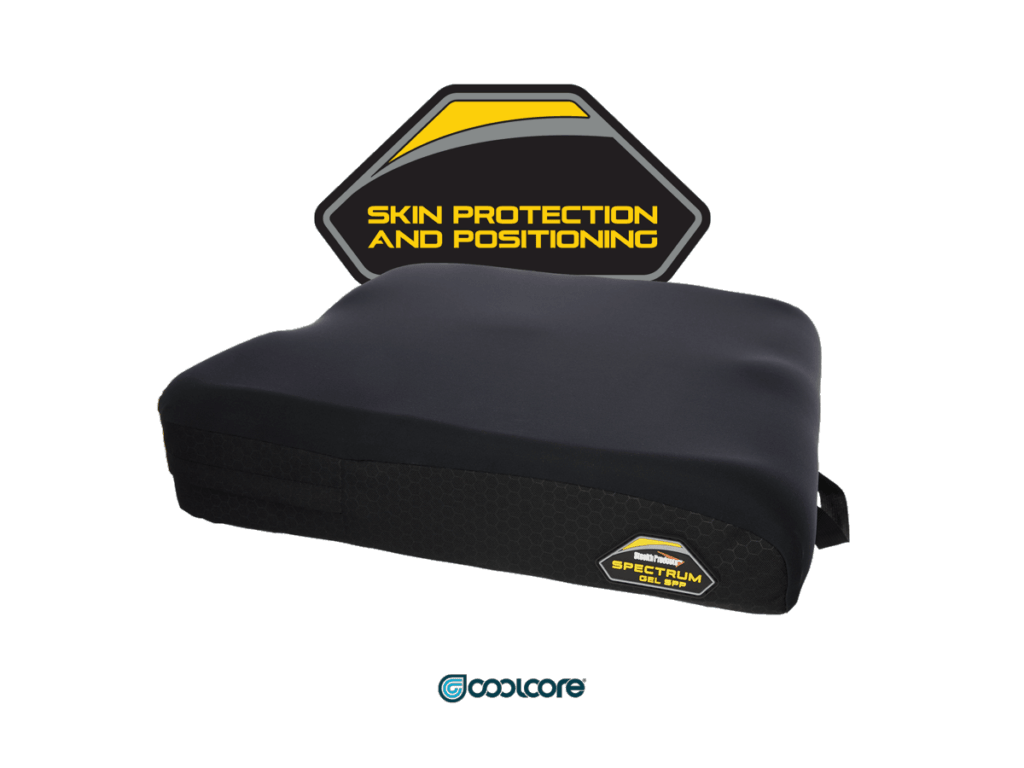 Spectrum Gel SPP
Skin Protection and Positioning
This cushion offers skin protection and positioning with a Coolcore, 4-way stretch, breathable cover. Includes urethane liner. Weight capacities are 159 kg for 356 - 508 mm (14"-20") width, and 295 kg for 559 mm (22") width.
Features
Lateral and pre-ischial shelf contoured, high-density molded foam base
Twin-cell, lightweight fluid insert under at risk bony areas
CoolCore technology cover standard
Sizes available:
Width: 355 - 610 mm (14 - 24")
Depth: 381 – 660 mm (15 - 26")
Custom sizes available
Urethane or Polyurethane liner optional
The standard Coolcore cover can be substituted with a Mesh or a Stealth Tek cover
Overview
Download our
product brochure
Download our product brochure here to get an overview of our current product range!
Powered by CoolCore
What is CoolCore?
Chemical Free material
UPF/Flammability rated
4-Way Stretch nylon interlock with Elastane
Patented combination of chemical-free blends that deliver 3 distinct functions: Moisture Wicking to Moisture Transportation to Moisture Evaporation.
CoolCore Technology is exclusive to Stealth Products.
Year round Temperature Control
CoolCore fabrics wick moisture away from the body in every direction keeping you dry and comfortable no matter what season it is.
Breakthrough Technology